Print readership has grown rapidly
English readership grew by 27%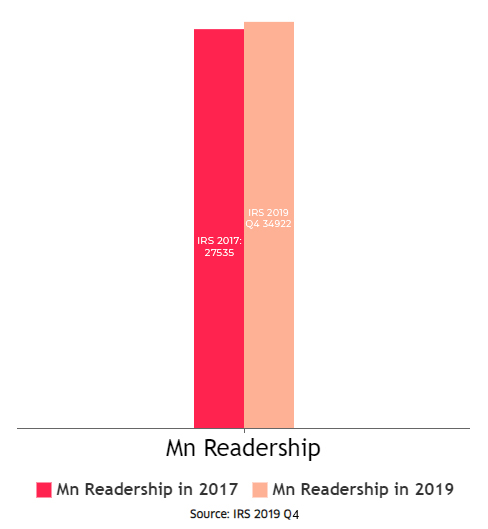 Print works better in conjunction with digital because of the morning effect.
Launching a campaign on TV during primetime does not compare with the impact or effect of a consumer seeing the ad in the morning newspaper with the full day ahead to discover more, talk to family, friends and colleagues about the brand/product. This ensures that the ad works harder, resulting in higher recall and interest.
The printed word is credible and builds trust for brands through association.
In this day of ad avoidance and doubt about digital delivery, it is newspaper brands that provide the credibility and trust that brands seek in platforms they use to reach premium audiences. In a world riddled with fake news today, more and more consumers are turning to newspapers to confirm their news. Only if its printed on paper can it be trusted. Brands are leveraging the credibility of the medium to instill trust in their products.
Print offers immense innovation opportunities to advertisers like no other medium.

It is the only medium that can cater to all five senses. The Times Group has been at the forefront of print innovation, leading the way for the industry.
1 out of every 2 English readers in India read BCCL publications
Overall grew by 2%
English grew by 25%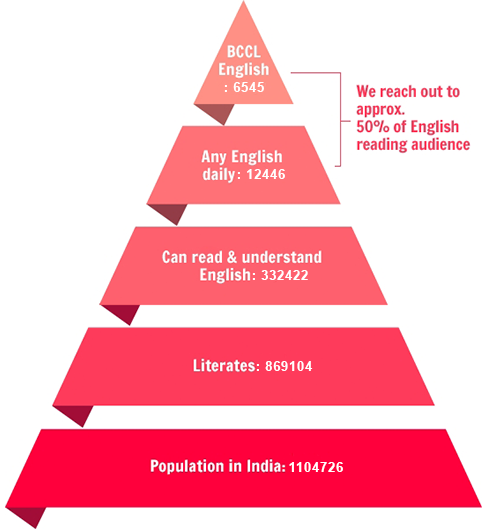 Reading is a strong morning habit.
The day begins with print. Therefore, what better way for brands to launch a new product or promotion, make a splash about a new variant or packaging, create interest in the brand's proposition through high impact and then leave the rest of the day for the consumer to discover further?
Print gives a brand instant awareness and impact.
The recall to a print ad is much higher than most other mediums. The reason being that other mediums are highly fragmented and there is no guarantee that the viewer has seen an ad. Premium audiences that our publications serve are notoriously active ad-avoiders across TV and digital, and we see that cord cutting in premium households is increasingly common now. The newspaper offers guaranteed visibility and therefore higher recall, which results in better ROI for the advertiser.
Accessibility – The distribution ecosystem. The newspaper gets delivered at home EVERYDAY in India, unlike in the West.
Education – Growth in literacy and education have created substantial headroom for growth of newspapers.
India's Economic growth – It is believed that the growth of newspapers in India is directly related to urbanization leading to higher aspirations, heightened interest in buying assets etc.
Pricing – Newspapers are the pocket friendly source of news.
Customized & localized – Sections and pullouts cater to various segments of readers together with localized content.
Our Readers
Urban Reach (Lac)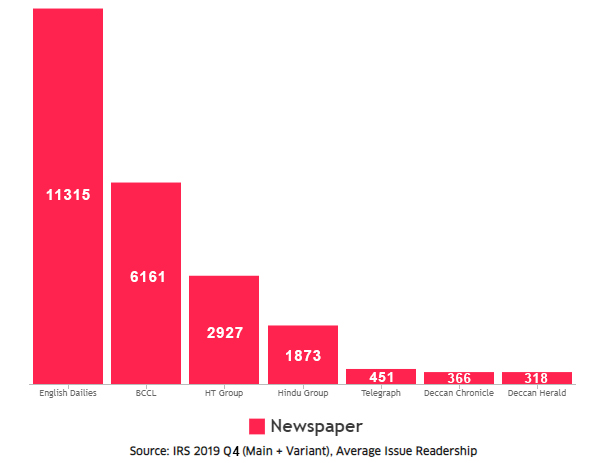 Print penetration highest among Working Individuals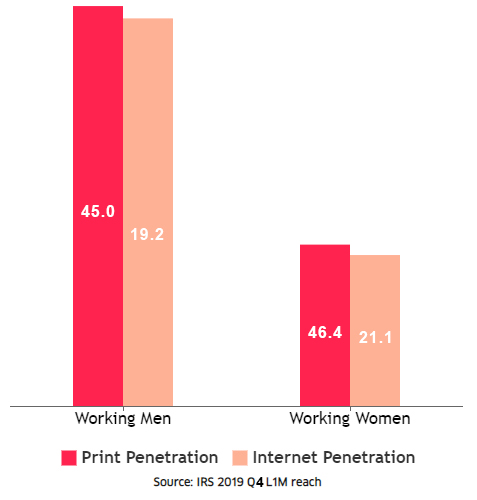 Print Penetration highest among Graduates and Post-Graduates